A few weeks ago, I discussed the importance of investing in quality hosting to have interesting performance in terms of SEO and user experience?
Following the publication of this post, I was contacted by Philippe Guilbert, Marketing Manager at Dareboost, who kindly offered me to complete my remarks by giving you 5 tips to improve the web performance of an e-commerce site.
Because, it is no longer a secret, the slowness of your pages can cost you – very – expensive and on many levels: impact on your business metrics (rebound, conversion), on the loyalty of your customers, your brand image and even on your SEO.
So here are some tips to optimize your web performance, delivered by a specialist in the loading speed of a site, follow the guide!
Accéder à une partie de l'article
How to boost the performance of your website?
Measure the speed of your website
This is the basis: we can only improve what we are able to measure. However, in terms of web performance, this "base" is not so easy to master. This creates the risk of being mistaken in the analysis of the situation and the identification of priority areas for improvement.
To properly measure the performance of your e-commerce site, you must measure the right indicators, the right test contexts and the right pages. Let's focus on these 3 points.
Measuring the "right" indicators
There are a large number of performance indicators and they do not all have the same interest. For example, the famous "loading time" is, in my opinion, certainly not the most relevant indicator to look at in your shortlist.
Here are 3 indicators that deserve your attention:
The TTFB, translate the Time To First Byte, to evaluate the technical performance of your infrastructure. It is measured in seconds (or milliseconds) and the lower it is, the better your infrastructure performs.
The Start Render, which measures the beginning of your page's display. This indicator will tell you how long a user will wait for the page to start displaying to Internet users but also to Google's robots.
The Speed Index to measure your performance in its UX dimension.
The "right" test contexts
If there is one thing you need to integrate when talking about the web performance of a website, it is that there is little chance that all visitors to your e-commerce will consult your pages with a fiber optic connection…
So, above all, do not hide your face by gauging the loading of your site from your professional computer. Indeed, there is a good chance that it benefits from a much more efficient connection than the common Internet user! And that's normal, it's your work tool. But this is not the case for everyone!
Thus, know that it is necessary to set up your performance tests as close as possible to the conditions of consultation of your visitors. So, if your traffic comes mostly from smartphones, test your performance by simulating a mobile connection. Moreover, do not forget that there are still many mobile users who often have to do with a 3G connection…
Test the "right" pages
Last but not least, don't limit yourself to testing the speed of your homepage. Other "strategic" pages in your user journey certainly deserve to be looked at their loading speed.
Typically, your category pages or product sheets are much more important pages to test for your site because it is these pages that should normally generate the most incoming visits to your site.
And qualified visits, what's more!
Optimizing images and third-party resources: classics that (almost) always work
Reduce image weight: This is one of the most common tips in the analysis reports of our Dareboost analysis solution.
And for good reason: on average, images represent more than half the weight of web pages… And the risk of publishing non-optimized visuals is never zero. In fact, the topic of image optimization is so important (and vast) that we've made it a whole post on the Dareboost blog!
Adding new features to your website using third-party scripts is also a crucial point to watch. Because you can quickly "fish by gluttony", accumulate these external resources, and jeopardize the speed of its web pages, or even introduce dangerous "Single Point of Failure" (SPOF), as explained in this other post.
Make your entire team aware of the challenges of speed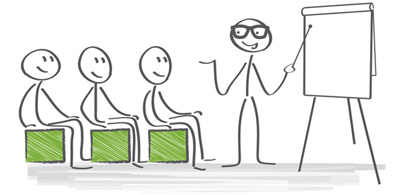 From marketing to development, everyone involved in the life of a website (or almost) can impact web performance. Their work can, in turn, also suffer from the consequences of web pages that are too slow to load…
It is therefore necessary to make all these actors aware of the challenges of web performance and the role they can play in improving it: from the optimization of the technical infrastructure to that of the images and other resources published on the site. By taking into account the challenges of loading speed with each change in design or addition of new features…
This very simple action to set up, must be a common thread within your entity. Especially if you have teams dedicated to the creation of product sheets, news articles or ergonomic optimizations. They must all be aware of the impact of their actions on the loading time of your site.
Benchmark the competition to set your web performance goals
How do you know if your website is FAST ENOUGH? That is the big question! And if the answer was simply… at your competitors?
The best way to avoid seeing your visitors desert your pages for those of your competitors is still to be also – if not more – fast to load!
Thus, remember to regularly measure the web performance of your competitors and set yourself the goal of surpassing them (or catching up with them depending on the case).
Moreover, keep this benchmark in mind: the speed difference compared to competitors must be at least 20% to be perceptible (and therefore appreciated) by Internet users.
Move from measurement to monitoring and alerting
Measuring the web performance of your pages is good. Regularly monitoring its evolution is much better!
Loading speed is not a given, nor is it an immutable performance. Every day, multiple factors are likely to degrade your performance, temporarily or permanently: unavailability of certain third-party resources, "accidental" loading of non-optimized images, addition of new services, external scripts that evolve (and their loading time as well), updates and other redesigns, etc.
The best way to monitor the performance of your site is to place the performance of your most strategic pages under monitoring (automated tests), at the frequency that will seem most suitable to you.
You will benefit from an alert system (such as the one proposed by Dareboost for example), which will warn you of the slightest degradation of your performance. With the key, a significant gain in responsiveness to find and implement solutions.